Everything right where you need it
Aquatic Visions comprises of two luxury studio apartments designed for couples seeking a romantic getaway. Enjoy the seclusion of our private seaside escape, whilst listening to the waves crashing on the outside reef and watching the birds frolic in our native garden.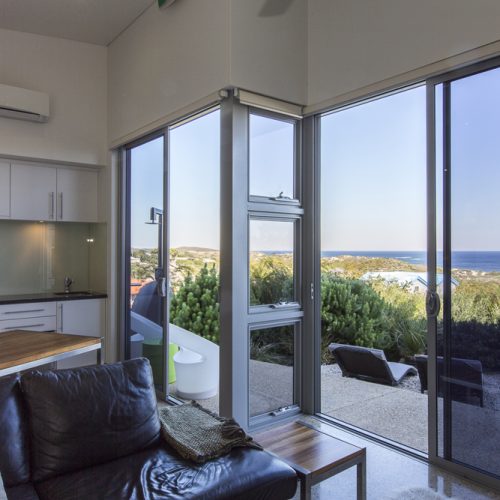 Sea View Apartment
Welcome to Aquatic Visions Sea View Apartment. We love to share the experience of living in luxury by the sea, in an amazing part of this world. Watch the waves come crashing in on the outside reefs and breathe the freshest air possible.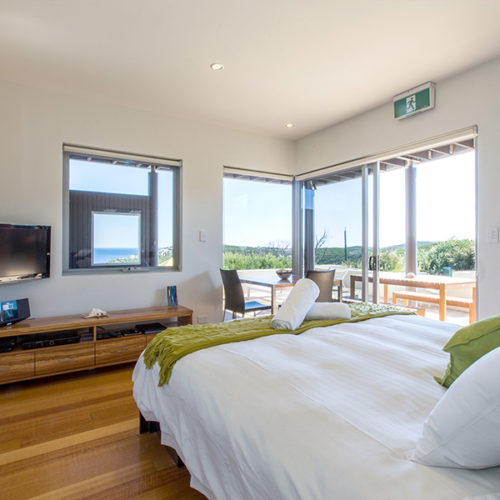 Studio Apartment
Welcome to Aquatic Visions Studio Apartment, set in a native garden with ocean glimpses and natural coastal flora reserve. We love to share the experience of living in luxury by the sea, in an amazing part of this world. Watch the waves come crashing in on the outside reefs and breathe the freshest air possible.
Treat yourselves to a luxury stay by the sea.
Perfect for that special occasion
We love to share the experience of living in luxury by the sea, in the beach side town of Prevelly Park. With direct access to the beach for a swim and only a short walk along the foreshore for breakfast at the renown White Elephant Cafe, we are also centrally located to visit the many world class wineries and attractions this area has to offer.
Virtual Tour
Our Virtual tour allows you to experience Aquatic Visions Studio Apartment  as though you are physically there.
Dream location The apartment was absolutely beautiful and clean which made it easy to relax .The bed was super cozy and comfortable and the kitchen,bathroom and laundry supplies were super handy. We met with Matt on our arrival and he was super lovely and it was good to know he was only a text away if we had any issues. The view is the one thing that attracted us to stay here, and we fell in love the moment we stepped foot in the door and the money was worth it just to wake up to that view each morning.
The views are stunning, location relaxed and peaceful, unit clean, modern and tastefully decorated. Everything about the place was so relaxing, the unit is nicely decorated with lots of little extras, well maintained and very clean. The host Matt was very helpful and the process to access the unit and make payment etc very easy. The studio unit was tucked away with your own driveway, private garden and courtyard area, the views were simply stunning, perfect spot for a couple to relax.
Excellent stay, beautiful location We loved our 3 nights at Aquatic Vision. Beautiful location with fantastic views. So wonderful to wake up to that view! The house was very comfortable, with everything you'd need for a great vacation. We loved cuddling on the sofa at night with a good movie on Netflix. And that hot tub!!!
My wife and I have just competed a one-month stay in the Seaview Apartment at Aquatic Visions in Prevelly. This was our second stay in this same apartment having spent nine nights here last January. This is a gorgeous, modern, bright and airy, open-concept apartment offering floor-to-ceiling panoramic views of the dramatic surf and the glorious sunsets over the Indian Ocean. The bedroom is spacious and has a high-end, comfortable king-size bed. The bathroom has a double Jaccuzzi bathtub from which there is an ocean view, and a large walk-in shower. There is also an outdoor shower on the patio for a post-beach rinse. We love to do some serious cooking, and this apartment has a better-equipped kitchen than most vacation rentals. The owner lives in the building and was very responsive to our needs while providing complete privacy. Aquatic Visions is located close to the very safe Gnarabup Beach, and there are many other beautiful beaches within easy driving distance. There are three local restaurants and a small general store nearby. An incredible network of bike paths, including a 10-km trail to downtown Margaret River, passes right by the door. This property is also located near the mid-point of the famous 150-km Cape-to-Cape walking track from Cape Leeuwin to Cape Natuaaliste. There are also dozens of some of Australia's best wineries located within spitting distance (pardon the pun). This apartment is not inexpensive, but well worth the price.
Perfect apartment for a weekender or longer. Property has a stunning view from everywhere but you can't beat the early morning view from bed and sunset out front. Kitchen is well equipped making meals in easy. Even though there's a house next door, it's quiet and private. Will certainly book again. Emma
Aquatic Visions was the perfect base to enjoy Margaret River from. The views were peaceful and serene, the beach is a short walk away, and Surfer's Point was a great spot to watch surfer's in action over wine and cheese. The Studio Apartment has one of the most comfortable beds we've ever slept on, the kitchen and bathroom are generously sized and in excellent condition. One of the evenings we were there we saw an incredible nightsky full of stars, and even the Milky Way, which was truly spectacular. Would recommend to anyone.
This was an amazing place to stay in Margaret River, our unit had amazing views on the ocean, kitchenette, Jacuzzi and king size bed. Our veranda was totally private and had a private driveway (it was too cold to enjoy in October), the service was amazing as when our host found out that we forgot our charger for Nikon DSLR, he stopped by the city's photographer to see if he can help. Overall an amazing place to stay in one of our favorite regions in Australia. We absolutely loved Margaret River, combination of great wineries, amazing food (lunches at wineries) and nature makes it a special place such that we will be back. Aquatic Vision is the place to stay.